Case study: Discover how one of our design sprint workshops contributed to the creation of the new swiss neobank Yuh, a partnership between Swissquote and Postfinance.
Yuh, video case study
More than 150+ design sprints in cutting-edge fields
Founded in 2015 by Steph Cruchon, Design Sprint Ltd is the most experienced team in Europe. We have run more than 150 Design Sprint weeks, at the highest level, in almost every area of innovation. We work regularly with Jake Knapp, the creator of the sprint at Google Ventures.
Discover our Story
The Design Sprint is a process invented at Google to accelerate decision-making  and reduce risk in strategic projects.  It is now used by the most innovative companies in the world. The objective of a Sprint is to validate your concept within a week by building a prototype and testing it on your future customers in a friendly and creative atmosphere.
Who is the design sprint for?
To survive and grow, companies must continuously innovate. Sprints are primarily used to User testing ideas and solve challenges of digital transformation. Design Sprints are highly praised by innovation managers, management and marketing teams.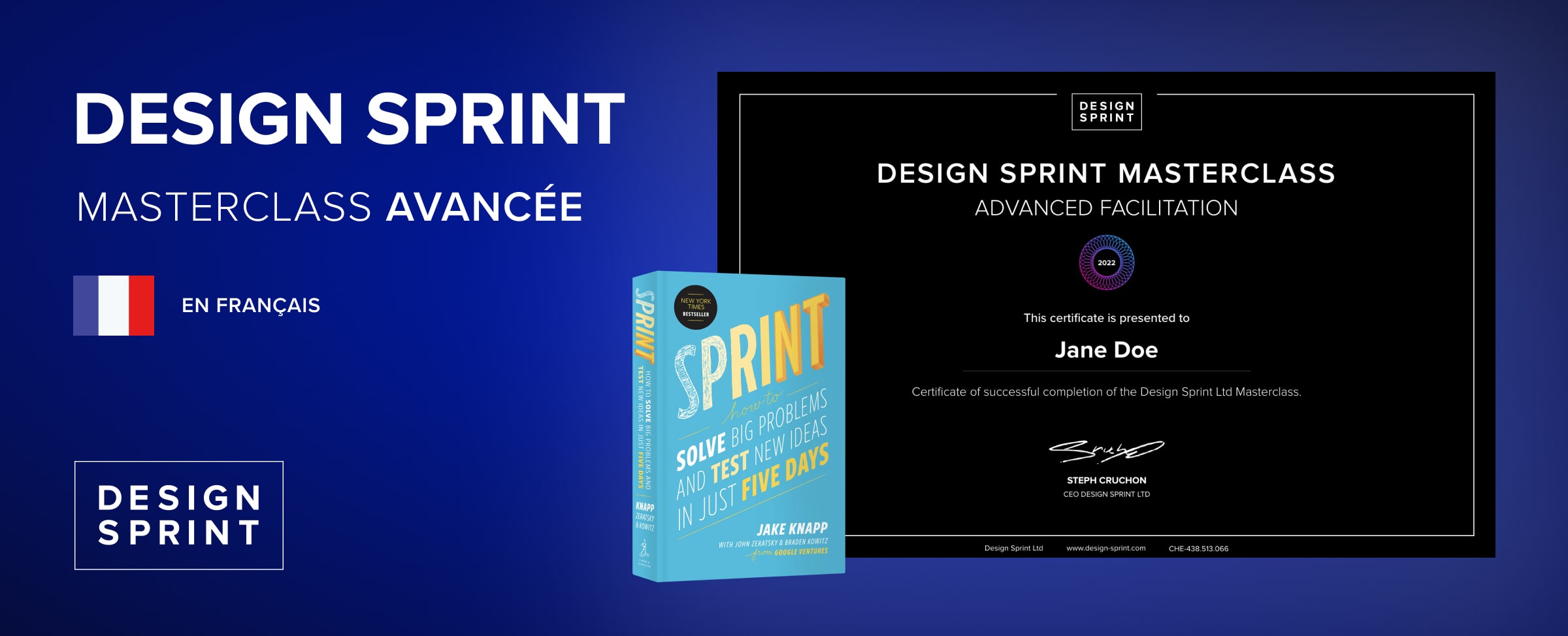 🇫🇷 Design Sprint Masterclass Avancée
Next session will be announced soon
With Steph Cruchon
Découvrir
Design sprint as a new approach to design and problem solving
We are pioneers of the Design Sprint methodology in Europe. Steph Cruchon and the team have been helping large companies and state organizations rethink their products or strategies, digitize their services, as well as become more agile and resilient.
The Design Sprint is an innovative methodology developed by Jake Knapp and the UX specialists of Google Ventures.  It allows you to accelerate and simplify the design process of a product, a strategy or any new business idea.
Exchanging ideas in workshops and designing solutions in co-creation allows you to build the prototype containing all of your best ideas by the end of one week.
The objective of a Design Sprint is to get concrete and measurable outcomes rapidly, allowing you to validate your concept, convince your investors, reduce risks, avoid developing unnecessary features, and maximize your return on investment (ROI).
Discover the Design Sprint
The Design Sprint Process
The idea is, in fact, very simple. A small team clears its calendar for a week and dedicates itself to following the process, rapidly progressing from challenges to tested solutions.
Your team is actively involved in designing the concept for the first three days of the Sprint.
On day 4, our top-notch designers, along with some members of your team, will create a realistic prototype.
Real customers or stakeholders will then test that very prototype on day 5. We will collect and analyze the user feedback together to assess the potential of your concept. After the Sprint, we will help you take the next steps to move the project forward.
Design sprint as a digital transformation tool for businesses
We have reached a point where it has become essential that business and technology work together. Whether you are developing a new strategy, improving your customer experience, or optimizing your supply chain process, digital technologies are critical to transforming your business.
In order to grow, stay relevant and keep your clients happy you will need to change your working culture and automate key areas. No matter the size of your company, you will have to learn how to work better, smarter and faster
Design Sprints are an effective solution to deal with complex or emotional problems. Sprints have become such a valuable tool because it delivers very clear and actionable end results in a very short time. Google, Lego, the Home Depot,  AirBnb and many others are already using sprint workshops to redesign their organizations at scale.
While Silicon Valley companies are already evolving one Sprint at a time, this path might sound a bit adventurous for other organizations that don't necessarily have the same level of digital maturity.
To provide our clients with clear guidance, our team has created the Design Sprint Quarter which can be easily integrated into the innovation roadmap of all possible companies -even those with the most rigid structures.
The Design Sprint Quarter is a 3-month process describing the path from the initial Sprint to the execution of the solution. We guarantee that, if you follow the process, your first Minimal Viable Product (MVP) will be released and presented to the general public within 3 months of conception.
The Design Sprint was created to quickly find solutions to critical business problems or create new products and services, but after running them these past 4 years we collectively realized that it has also an enormous power to bring team members on the same page, resolve conflicts and boost the level of internal communication and sharing of information.
We work mainly with large enterprises and almost each Design Sprint draws attention to the lack of internal communication of people working in silos. It can make employees doubt their responsibilities, question their value to the company, can cause low productivity and of course – missing the deadlines. Design Sprint is empowerment.
Team alignment requires a very clear roadmap – what we are working on and why. How we are going to work on this project and when it needs to be ready. Design Sprint answers all these questions and gives a very clear vision to anyone who is part of it, in only 5 days!
We have been working in so many different contexts, with projects which have a major impact both locally and globally, with complex politics and big stakes involved.
For a typical Google Ventures Design Sprint, we reunite a team of 7-8 people with multi-disciplinary backgrounds in order to bring expertise-based knowledge and ideas. It is a very well-crafted process which takes off most of the pressure from individuals at the same time allowing each of the team member to be heard.
We all work on the same challenge, though every participant has its own outlook and expertise about it. Everyone has a moment to present their knowledge and insights as well as sketch their own solutions. Which are posted on the wall anonymously.
The Design Sprint creates an environment, where each idea, no matter if it comes from a big CEO or an intern has the same weight. And yes, we had Sprints with big stakes involved, where total newbie in the field brought an idea, which was the base of the solution.
During a Design Sprint we use time efficiently focusing on something that brings value, the ideas which team brought and connecting them into solutions that will make a change.